Win an Airtime Pro Internet Radio Station for Your School for a Whole Year!
Win an Airtime Pro Internet Radio Station for Your School or College for a Whole Year!
We've teamed up with World College Radio Day to give away 10 Airtime Pro stations for free to educational institutions worldwide for a full year
The competition has now ended!
Watch this space as we'll be announcing the winners soon…
We are excited to announce our collaboration with World College Radio Day! This year's theme for the 10th Annual World College Radio Day 2020 is "Global Solidarity Rocks" and focuses on the need for all of us to come together and help one another through these tough times.   
The coronavirus pandemic has forced millions of schools, universities and other educational institutions around the world to move their classes and lectures online. It is a challenge to shift learning out of the classroom so quickly — and yet it is also an opportunity. Online platforms such as internet radio stations offer the potential to do educational programming in new ways. From talks and interviews to news and music, radio broadcasting and podcasting are an ideal format for students, teachers and lecturers to get creative.
Which is why, in partnership with World Radio Day, we are offering the chance for 10 educational institutions around the world to win a free Airtime Pro internet radio station for a year.
All you have to do is tell us how you would use it. Let us know, and you might be one of 10 lucky winners to receive an Airtime Pro internet radio station for free for a whole year!


How to apply
In your own words, write a short description of the following: How has the COVID-19 pandemic affected your institution, and what would you do with your own internet radio station to help your school or college during the next year? 
Ten winners will be chosen based on their plan to use an internet radio station to help their institution and community during these challenging times, as well as their ideas for how their station could be self-sustaining after the initial year.
Entries must be received by October 2, 2020. 

Only new stations and organizations are eligible. Current clients are not eligible.

All decisions made by Airtime Pro are final. 

No purchase necessary.

Employees and family of Airtime Pro are not eligible to enter.

Donated stations will be provided with the Starter plan.
Please fill out the form below to apply.
[contact-form-7 id="5106″ title="Covid Station competition"]
Start your free trial today and take advantage of our 30% discount for college radios!
Airtime Pro puts the capabilities of a professional staff of broadcasters right on your computer, giving you an audience reach as limitless as the internet.
Get your college station on the air in minutes with our stylish, intuitive interface, and discover the automation, content distribution modes (live or recorded), and program management that makes radio broadcasting as easy as it's ever been. Watch this video to learn more.
We're pleased to offer an educational discount on annual Airtime Pro plans to help educators and students use radio in their communities. Read more below to discover the offer details.
*While this promotion is limited, there is additional consideration available for faculty that can't get budget approval by the deadline. Contact us for details when you sign up for your trial.
Why use Airtime Pro for your college radio station?
Broadcast live or rebroadcast recorded interviews with students, professors, local bands, or visiting speakers
Engage and expand your listening audience
Broadcast important announcements
Create a platform for students to share their passion for music or gain hands-on skills with broadcast journalism
Broadcast lectures and talks
Give independent voices a chance to be heard on the airwaves
Create your own station or build a team
Are you ready to start a radio station at your college?
Check out our guide on how to get started.
Get your internet station on the air in under 2 minutes
With a clean and streamlined workflow, Airtime Pro helps you to start an internet radio station from home. Get on the air and broadcast faster than ever before.Watch this short video to see how simple it is to start up your own radio station with Airtime Pro.Dive deeper with our complete guide to
launching an online radio station from home
.​
Start your free trial today and take advantage of our 30% discount for college radios!
Built-in microsite and embeddable widgets
Each station comes with a sleek, mobile-friendly Radio Page that you can share with your listeners.Already have a website? Our player and schedule widgets are easy to embed into your site, so you can play your own live stream to your audience at the optimum quality.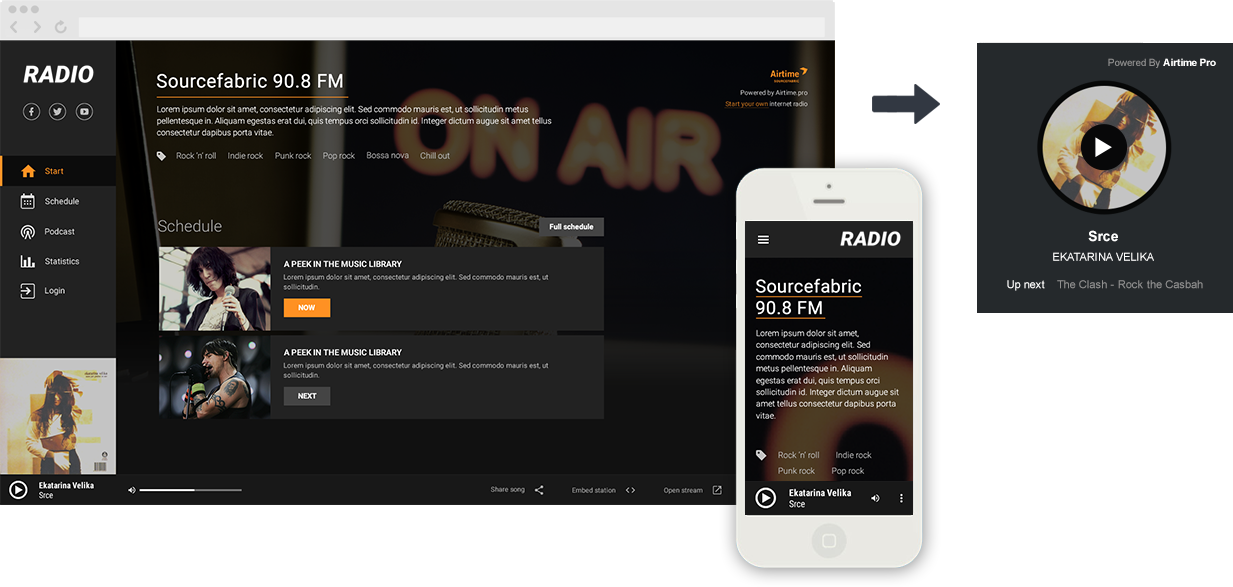 College radios stations love
Airtime Pro
"Airtime Pro provided us with a unique solution that allows our many volunteers and students to securely access our platform as content creators. It is ideal for collaborative work. We have been very happy with Airtime Pro's dynamic scheduling and the service makes it easy to switch between live and scheduled play seamlessly" - Jacky Tuinstra Harrison Outriders, General Manager, CJRU Radio
Am I eligible for the education discount?
You may be eligible for an educational discount if you are either a:
Student enrolled full-time
Teacher or professor employed full-time
Eligibility is determined on a case-by-case basis and is available to students and educators at accredited educational institutions only. Please contact us at help@sourcefabric.org to confirm your eligibility.
You may be requested to provide proof of enrolment and identity in order to verify your eligibility.
How do I get the discount?
Sign up for an Airtime Pro trial, and before your trial is over, please send us an email at help@sourcefabric.org requesting the discount when you're ready to upgrade.
We may request proof of identity and enrolment to verify your eligibility for the educational discount.
Your information may be retained in accordance with our Terms and Conditions.
*Offer good for new subscribers only. Cannot be combined with any other discount or promotion.
I'm already a customer. Am I eligible?