What makes
Airtime Pro

 the best internet radio solution?
Intelligent Library
Audio files are your building blocks for playlists, and Airtime supports MP3, Ogg, WAV, FLAC and AAC formats. Simply drag and drop from the Airtime Media Library to create playlists from which to construct shows. With our intelligent library, you'll always be able to find what you're looking for quickly and easily.
Smart Blocks
Much requested and now designed by the community, Airtime's smart blocks offer you a great way to speed up your programming. Specify criteria (like genre or last played) and Airtime will populate that block randomly according to your conditions, allowing you to focus more on your prime time content.
Media Builder
Airtime allows you to drag-and-drop audio files from your library into playlists. Playlists are the building blocks of shows. Once made, they stay in your library for reuse. Our visual cue editor allows you to quickly edit any silence off the end of tracks, ensuring you're always on the air. Our in browser preview lets you cue up your content beforehand, leaving no room for mistakes.
Intuitive drag and drop interface
Visual control of cue in/out and fade in/out points for tracks and playlists
Preview tracks and edit metadata in-browser
Download option for easier sharing and editing
Automatic cut-off for shows longer than scheduled length
Program Calendar
Our intuitive design means just about anyone can quickly navigate the schedule. View it by week, month or day to focus in on the finer details of your programming. Additionally, our color coded shows let DJs find their content quickly. That means more time for planning quality content.
Easy to use interface similar to Google Calendar
Drag and drop shows to new timeslots
Day, week and month views
Daily, weekly, bi-weekly and monthly repeat settings
Color-coded content aids identification
Show Linking and Repeating
Show linking allows you to create repeating shows that share the same template. By creating a smart block in one show and linking it, it will be dynamically generated every time. This is great for things like overnights where you might not want to program specific content but you certainly don't want to go off air.
Live Show Editing
Just finished recording a late-breaking news segment? No problem, just upload it and drop it right into the show that's currently on air. The Now Playing screen allows you to rearrange your schedule in real time.
This gives you an up to date view of your next few hours of broadcasting allowing for total management of your upcoming schedule.
Live Broadcast
Broadcast to your Airtime station with almost any Icecast-compatible third party software, like Mixxx. With Airtime, you can seamlessly transition between your programmed content and live events like an on-location interview or a live DJ set.
Airtime supports two types of live input stream; the Show Source, which enables a specific person to stream in during their own show, and the Master Source, which can override the Show Source if necessary. If neither type of live input is available, Airtime will fall back to Scheduled Play.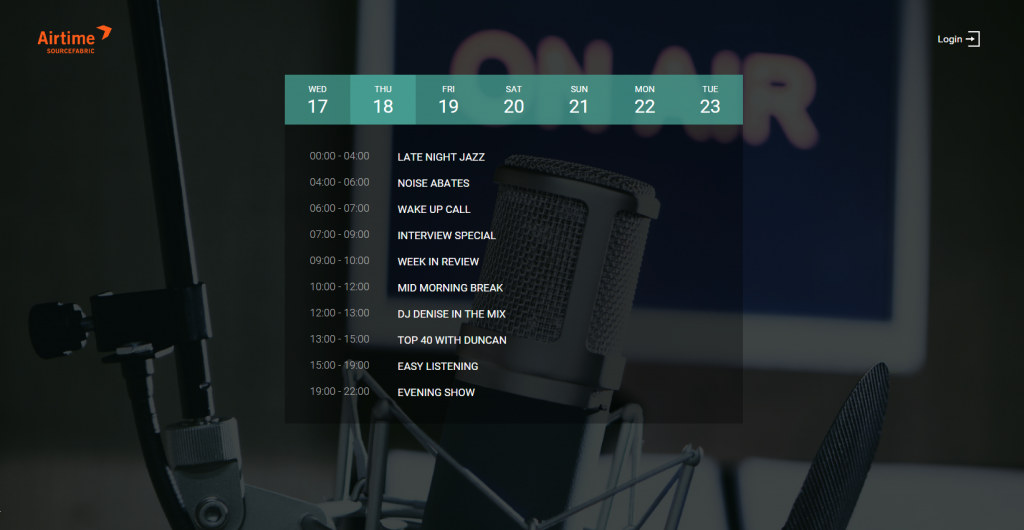 A Home for your Radio Station, on the Web
Don't have a website yet? Each Airtime Pro station comes with a Radio Page available on the web at yourstation.airtime.pro, and can be easily shared with your friends and listeners.
On the Radio Page, your fans can listen live to your station, view your upcoming show schedule, and read about your station.
Mobile Friendly
Your Radio Page will also feature a sleek, responsive design, and is mobile friendly. Try it on your iPhone, iPad, or Android device!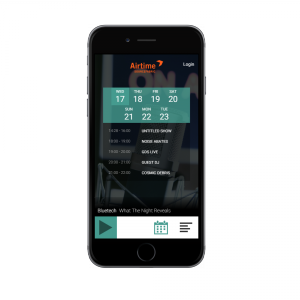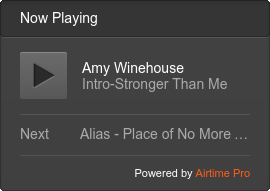 Embeddable Player Widget
Embed your Airtime radio station onto your website in seconds, with the Airtime Pro Player widget. This simple, yet powerful website widget delivers your radio station to listeners on desktop browsers or compatible mobile devices, automatically selecting the best stream.
Embeddable Schedule Widget
Don't touch that dial! Airtime Pro includes a schedule widget for your website or blog too, with just a one-line one snippet of code. No more laborious filling in of external calendars by hand, or lengthy text programs on websites.
For advanced users, Airtime Pro offers three standalone schedule widgets. You can display information on your website about:
the current show (show time elapsed, show time remaining) and next show (start time, end time)
the upcoming show schedule for that day
weekly shows, in a fully browsable widget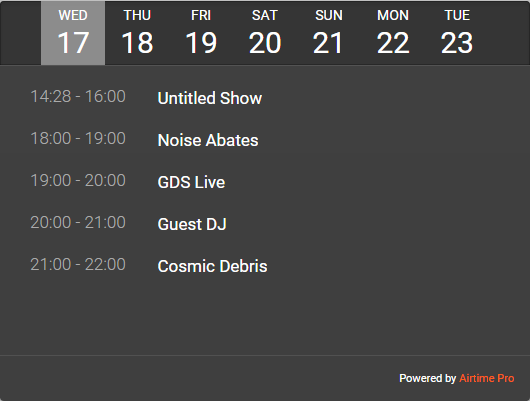 Subscribe and Broadcast
Automatically ingest your favorite podcasts. With Airtime Pro, you can subscribe to podcasts directly and automatically download new episodes for easy broadcasting. Find out more.
Playout History
Detailed reporting that's exportable into multiple formats gives you the ability to quickly and easily get your paperwork together for licensing bodies.
Support
Get quick and reliable support from our team of experts. Don't know exactly how a feature works? No problem, just ask and we'll be happy to help. All accounts come with ticket, email and forum support making it easy to keep track of your help desk ticket and review our answers later.
Our Starter, Plus, and Premium accounts come with Live Chat support which allows you to get help instantly from our support team. Whenever a support agent is active, you'll be able to get in touch with them in minutes and get real time help solving your problem.
DJ Management
Airtime's advanced user management allows station managers to set a hierarchy of staff and allocate them control of broadcast slots.
Allocate one or more DJs to selected program slots
Four roles allows complete station control
Centralize and manage staff contact information
Each user can manage own uploads