So, you have your Airtime Pro station already set up and you want to place it on your website, right? Easy. Airtime Pro's Radio Player is a flexible widget that in a few easy steps can be embedded with just one line of HTML code so that your online radio station can be seen and listened to by anyone, anywhere on the internet.
To get started promoting your station in this way, go to Widgets in your Airtime Pro dashboard and select Player.

Here, you have two choices. The Simple Radio Player displays the track or show your station is currently playing as well as the upcoming track, and there is the option to display icons for Twitter and Facebook, which lets listeners share your station with their social media followers.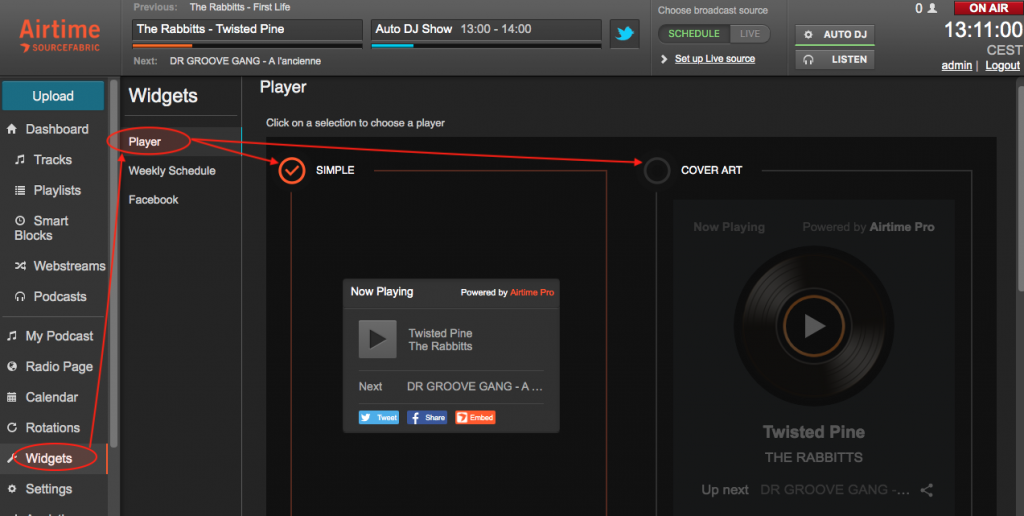 Cover Art is a responsive version of the Radio Player that will additionally display each song's full-colour cover art as they play out, automatically based on the track's metadata. When listeners click play on this version, the cover art will spin in an eye-catching way.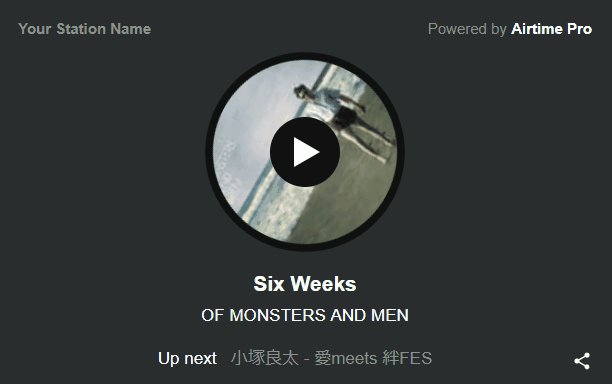 Select the version you prefer.

Below that, there are additional options to customise your player:

In the Title section, type in your station's name or tagline, and it will appear in the upper left corner of the player.
Select "Auto detect the most appropriate stream to use" to give listeners on mobile devices the option to save data by using a lower quality "mobile stream".
Display or remove Facebook and Twitter icons that listeners can click to share your programming with their own social media followers.
Include an icon for the embed code so that anyone can grab it and place your station's Radio Player on any website they want.
On the bottom of your Player page (see below), you will find your unique embed code, which you will copy and paste into your target website's HTML.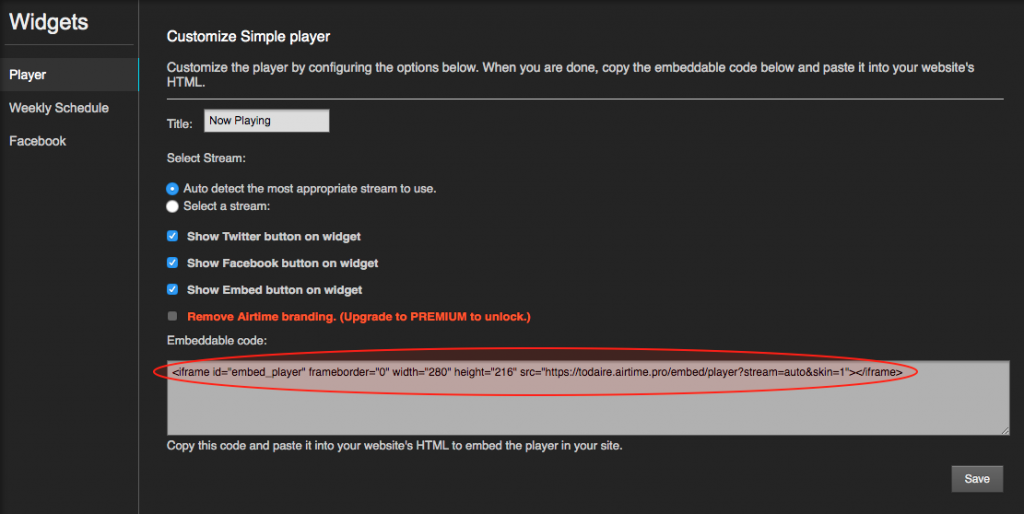 You can add any text you want just before the code to introduce it, such as "Listen to My Cool New Online Radio Station". Disclaimer*: A few website builder template services don't allow iFrames at all or require additional plug-ins to work. If you run into any problems, consult with your service to see if it accepts iFrames and has a workaround. Also, keep in mind, iFrames can only display content from sites that use the same Hypertext Transfer Protocol you use. If your site uses HTTPS, you will only be able to embed content from other HTTPS sites. Likewise, if you use HTTP, you can only embed HTTP URLs.

Voila…it's that easy! As long as this Radio Player iFrame code is embedded in your target website(s), all of the information and audio from your station will be transmitted there in real time. Place it prominently on your station's homepage, blog or social media and encourage fans to share it on theirs.

Ready to start your own internet radio station? Test our internet radio broadcasting software today with a 7-day free trial, no credit card required.

Join the 1,000+ radio stations powered by Airtime.
7 day free trial Plans from $9.95/mo