So you've set up your internet radio station with Airtime Pro. Now what? Your friends and family are probably already tuning in, but it's time to grow your audience. Starting an internet radio station is easy but promoting it takes some work. It can also be a fun and creative process particularly if you look to unconventional ways to spread the world about your internet radio station.
There are lots of avenues through which you can promote your station, from social media channels to influencer marketing or selling merchandise. If you're looking to get started, we've put together a short guide on the different ways you can get more listeners to your radio station, including the innovative audience growth tools we've bundled right into our internet radio broadcasting software Airtime Pro.
Step 1: Sensible Social Media
For some digital natives, social media is a no-brainer, but it's important to think both strategically and creatively when using it to promote your station. These channels will be a key means of reminding your listeners about your daily shows, as well as a way of sharing news about your station.
1.1 Choose the right social media channels
The first thing you'll need to do is think carefully which channels you'd like to use. In order to make a smart decision, you'll need to think carefully about the demographic you're trying to target and find out which social media platforms they spend the most time on. You could start by checking out this list of the most popular social media channels.
1.2 Consider which social networks are most popular with your target audience
Although Facebook is still the most popular social media network, over the past couple of years it has regularly updated its algorithms, often making it very difficult for new page owners to build an audience without paying to boost the visibility of their posts. On these grounds, it might be better to find other alternative social media networks to use.
Whilst platforms like Instagram, Twitter and Snapchat serve global English-speaking audiences and are definitely worth consideration, it may also be worth looking into the regional social platforms that are popular in your area. Have a look at this World Map of Social Networks to get started.
1.3 Manage your time wisely
Choosing social media channels and managing them is free, but it can cost you a lot of time. So if you're running your internet radio station alone or even with a small team, it's important to be selective about what you dedicate time to. Rather than spreading yourself thin across several social platforms, determine which will be the most useful to your station and focus on it. It's better to do a great job with one or two channels rather than a mediocre one with five or six.
1.4 Come up with a social media plan
Before deciding on which social media channels you'd like to use to get your internet radio station noticed, come up with a clear and actionable plan for how you're going to use them. This will keep your content effective and focused. Think about what type of content you're going to publish, and how frequently you'll post. Try to stick to this plan for the sake of consistency. If after some time you feel that the plan isn't working, you can adjust it accordingly and see if this makes a positive difference.
Check out this guide to creating a social media marketing strategy in 8 easy steps.
1.5 Take advantage of a Social Media Management System
Once you've decided on your content strategy and which channels you'd like to deploy your strategy on, you may want to consider signing up to a social media management system like Hootsuite or Buffer. These tools help you manage all of your channels from one place. You'll be able to monitor what people are saying about your station and effectively reply to direct messages, helping you to nurture your audience as it grows. You'll also be able to schedule posts ahead of time to make promoting your station easier.
1.6 Join Relevant Facebook Groups
Become a member of  Facebook groups where the demographic of members matches your target audience. Post in the group to let members know about your internet radio station or any special events you might be holding, such as an interview with a famous band or musician. Try not to be seen as intrusive or spammy by over-posting. If you repeatedly post in the group trying to promote your station, you'll risk being removed by an admin.
1.7 Run contests and polls
Everyone loves a contest with a good prize. If you manage to get free tickets to gigs or events to give away to your fans, you could run a competition on your social media. Ask people to interact with one of your posts in order to enter the competition. This way your posts get organic visibility and reach a wider audience. The friends of your fans are likely to share common interests – hence this could be an excellent way to tap into a larger relevant audience.
1.8 Integrate Airtime Pro with your Social Media Channels
Airtime Pro comes with several features which are perfect for making the most of your social media promotion.
Your Facebook fans can tune-in without ever having to leave their newsfeed with the Facebook player widget that'll be built in to your Airtime Pro instance. Avid tweeters will be able to keep their focus on station content with the Airtime Pro auto-tweeting option. For the Audiophiles among us (this is radio after all!) Soundcloud integration allows you to give a taste of your radio station to the hordes of sound-seekers on the platform.  
Step 2: Connect with local influencers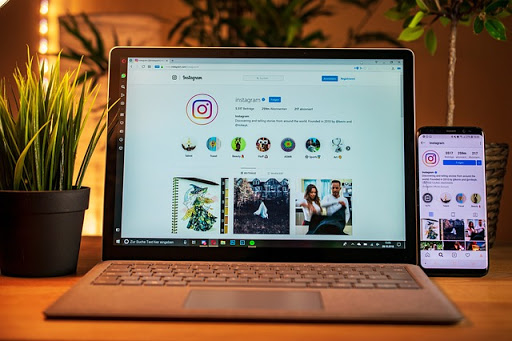 Another great way to promote your internet radio station is through influencers. Influencer Marketing is essentially endorsement from anyone with a large social media following or important presence in any given field; they don't have to necessarily be a celebrity.
2.1 Choosing the right influencers
An "influencer", as far as your station is concerned, is anyone in your niche who is an authority on it. This could be anyone from local bands to bloggers or local television personalities. Think outside the box! You can use social media like Twitter or Instagram to search for influencers in your niche. Look for influencers who have relevance to what you do with a large amount of followers. These influencers could, for instance, be related to the music style that you play or to the topics that you cover.
2.2 Have a plan
It's a good idea to be organised by keeping track of the influencers that you discover and the ones that you have contacted already. Remember to be patient when contacting influencers. These people are contacted by  fans or brands all the time and sometimes they will not be able to respond quickly so don't give up all hope. Wait around a week after first making contact to politely follow up on your enquiry if you haven't got a response yet. Finally, remember that many key figures who are considered influencers earn money by endorsing brands, so you need to be clear about your purpose and goal to get them on board.. Be honest from the start. Have a clear plan and goal and stick with it.
2.3 Work on your pitch
Never send a bulk message to all of the influencers you aim to contact. Instead, tailor your message and approach to each specific influencer. Let's assume that you run a rock music radio station and you approach a local band musician that you really like to invite them for an interview. Be honest and tell them about your favourite track of theirs or an album that has been a great inspiration for you. If you run a community radio station, inviting a local celebrity such the local major or an upcoming artist is a great way to draw attention to your programming. Be yourself when approaching that person. Influencers are people like you, so don't approach them as you would a company or a brand. If they don't have the time to see you in person,, then consider offering a Skype interview instead. Give them alternatives that they cannot easily refuse. Of course, not everyone will be available to appear on your station. Even if the person of interest declines your request for an interview, remember to thank them! If you keep the doors open you'll never know what might happen in the future.
2.4 Before the interview
Try to give yourself plenty of time to carefully consider your interview questions and key topics. It can be very awkward to be on air and have nothing to discuss! Plan in advance and plan it well. Remember to focus on your interviewee, rather than yourself or your shows regular features. It's not the moment for promoting your station or show.
To make sure your interview reaches the influencer's fanbase and as large an audience as possible, you'll also want to start promoting your interview well ahead of time. Setting up an interview with an influencer has the added bonus that they are likely to share the interview on their own social media channels, directing their followers to your internet radio page.
You could create social media banners regarding the upcoming interview that you can be shared on your social media channels in the days before the interview takes place. They'll need to be creative and unique to stand-out from the crowd. For example, you could also create countdown banners to create anticipation. Use a graphic-design tool website like Canva to create free amazing graphical promotional banners.
2.5 During the interview
While the interview is on air, have an assistant live-tweet some the most interesting quotes and make sure to tag the influencer's twitter account! Also remember to check if there is an existing hashtag that influencer's fans already use. If the influencer visits your studio it's a good idea to setup some photo-opportunities whilst they're there and share them on your Social media channels. Fans always love checking out pics of their idols!
Join the 1,000+ radio stations powered by Airtime.
7 day free trial Plans from $9.95/mo
Step 3: Create a website and a mailing list
Each Airtime Pro stations comes with a responsive Radio Page. Whilst for some that will be good enough, if you want to take your internet radio station to the next level you'll want to create a website to embed your Airtime Pro station onto. From online chat to newsletter sign ups, a personal website will give you plenty of ways to engage with your listeners, share news, and capture the email addresses so that you stay connected with them.
3.1 Setting up your website
There are plenty of cost effective ways to create your own website without breaking the bank. One of the easiest ways to to create a website would be with a free website builder like Wix. Wix provides everything, from website templates, to hosting and 'drag n' drop' site-building functionality. Check out a list of music related free Wix templates for you to use.
The more technically minded may wish to experiment with the flexibility offered by a CMS like WordPress. However, what you may gain in flexibility of design you may be losing through a lack of customer support. Whilst WordPress itself is free, unless your content with a 'yourstation.wordpress.com' subdomain you'll either be responsible for your own hosting provision or have to pay a hosting fee.
You could even make use of the existing website of an associated organisation with Airtime's embeddable scheduler and radio player widgets. Ideal if your internet radio is only a small part of your wider organisation.
3.2 Setting up a newsletter list
Newsletter marketing is still a very effective and cheap way for building relationships and maintaining regular contact with your listeners. A newsletter gives you the opportunity to engage with your audience and increase awareness on things you like to communicate with them. You can use newsletters to promote your upcoming radio shows, exclusive interviews, special events, competitions and more. Including special offers exclusive to your subscribers can also enhance the perceived value of the newsletter – driving more subscriptions.
In order to build a newsletter list you will need to place a newsletter sign-up form on your website. Try to put the sign-up form in a prominent location for the best results.
You could also use a web-based marketing automation platform such as Mailchimp. Check out this Youtube tutorial on how to use Mailchimp from start to finish.
Step 4: Increase online brand awareness
4.1 Submit your station to Internet Radio Directories
It's important to get your station listed with radio directories, which are a great way to attract new listeners. Here are our top 5 radio directories for you to consider:
1.   Streema
2.   Dirble
3.   Radio-directory
4.   Streamitter
5.   Streamingthe
For a more comprehensive list of directories, take a look at our Top 14 radio directories blog post. Airtime Pro's TuneIn integration also enables you to list your station on the most popular mobile radio app on the web.
4.2 Start a blog
Starting a blog for your Online radio station has two primary purposes. On one hand, it's a place where you can provide your 'insider' knowledge on topics of interest to your listeners – such as industry rumors or announcements. This not only provides an indirect source of radio listeners, but also helps reinforce your stations identity in the eyes of your audience. On the other hand, it's an opportunity for search engines to better understand your site's content and deliver it to your target market, whether that content is your radio page, or the blog itself. Naturally, it goes without saying that the more relevant content you create on your blog, the greater the likelihood that someone will stumble across it.
Tips:
Write fresh opinion pieces on hot current topics in your niche (use Twitter and Google Trends to find trending topics, and Google Alerts to get notifications on news around your niche)
When you have an interview with a well known figure, post a blog with the transcript for those who missed it.
You could upload the audio to Soundcloud and embed it on the blog post as a a podcast so that your listeners are able to listen to the whole thing.
After you publish a new piece, let the world know about it by submitting it in relevant forums or groups (try not to be too intrusive, or you'll be identified as a 'spammer')
Open your blog to guest contributors. You could introduce a column on your blog where you post guest blog posts. You can ask your listeners to submit their own stories and publish them in that specific section.
4.3 Use of Podcasts
Podcasts are more popular than ever, and you can take advantage of this to promote your station. You might, for instance, turn your shows into podcasts and upload them into podcast databases. If your station has several different shows, consider having several different podcasts. Interviews work particularly well in this format. Airtime Pro's podcast upload feature makes this process simple and hassle free.
4.4 Make use of online forums
Forums or discussion boards are very popular amongst enthusiasts in all sorts of areas, so they're an ideal place to promote your radio station. Find online forums that match your radio's style and join the discussion. Let's say that you run a radio station that plays ambient music. You'll most likely be able to find forums and discussion pages dedicated to the same niche as your station through a quick Google search. Have a look at our example below: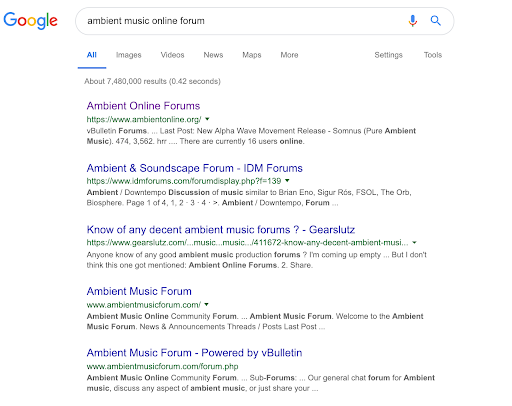 4.5 Use of Reddit
Reddit is a social news aggregator and discussion website that can be an amazing source of traffic generation if used correctly. Reddit lets you submit links from your site but also from other resources that are relevant to each specific Reddit community (called subreddits). However, you could also submit text posts that could also drive quality traffic to your website. Reddit users ("Redditors") will then upvote or downvote your submission. The more upvotes you get the higher the visibility of your post will be.
Let's use the above example of the Ambient music station.
First thing you will need to do is to sign up to Reddit.
Then will need to find a subreddit group that matches your niche. In our example, we would need to search for a Reddit group that is dedicated to Ambient music. In that specific example we found a subreddit group called 'Ambient Music' with 24.6k followers and one more called 'Ambient' with 8.1K followers.
You would then need to subscribe to both groups and whenever you have some important news to share like an interview or a podcast from a famous Ambient musician that you hold on your radio station or a blog post you wrote with the best ambient tracks of the last decade.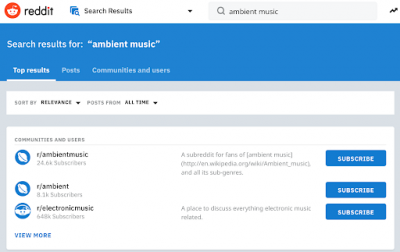 Tip: Don't share only links to your site. Be helpful to your community by sharing news that you find interesting from your specific niche.
4.6 Use Youtube
Youtube is another great channel that you could use to promote your station and radio shows. Let's say you've got a special guest or celebrity in the studio for an interview. You could stream live the whole interview using Youtube Live and all your listeners will be able to see what's going on in the studio. You could embed the YouTube Live stream directly into your website so that your fans don't even have to leave your site. Webcam.io explains how to do just that.
If the stream is set to public, it will become available for playback immediately after the live stream is finished. Keep in mind that, before you start streaming on YouTube you will need to download encoding software. You can find everything you need to know for live streaming using Youtube in this guide.
Tip: Having a video recording of an interview with an influencer as a well known musician or band, public figure or a local hero can be a magnet for new listeners. Therefore you should make the most of the situation by using all the tools you have available. Why not create a blog post that includes a transcript, and the embedded youtube video?
Step 5: Offline ways to promote your internet station
5.1 Run your own event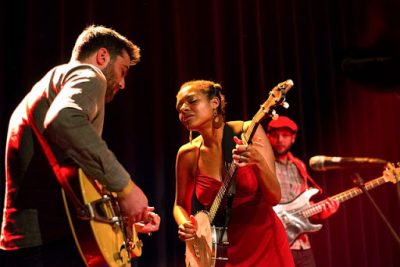 Organising your own event for your station can be another great way to engage with your listeners and reach a new audience. You could for instance, invite local singer songwriters or bands to play at the event and broadcast the gig live for those unable to attend in person. If that sounds too complicated, you could record the performances and broadcast it on another day by uploading the recording to your Airtime Pro scheduler.
If you manage to book a well known band or DJ to play on your station you will have more chances to reach a wider audience and make your internet radio station known to those potential new listeners. However, it's all about how you promote the event. So try promoting the event on your website and during your daily shows. You could create banners and place them on your homepage or radio spots that will play in intervals, reminding your listeners about the event. Holding regular interviews with the booked artists in the weeks prior to the event give your listeners and opportunity to 'get to know' the performer. Finally, don't forget to use event management and ticketing websites  such as Eventbrite and Facebook Local to promote your event so that you reach as wide an audience as possible and sell tickets in advance.
5.2 Make your own merchandise
Merchandise doesn't just help your bottom line, but can also be a great way to spread the word about your station. Think of items your listeners will want to use rather than stuff they might throw away after a day or two. It could be anything from t-shirts, hats or stickers, to cup coasters, coffee mugs or fridge magnets. Whatever you decide to produce, do your best to make it look cool so that your listeners are proud to be seen using it.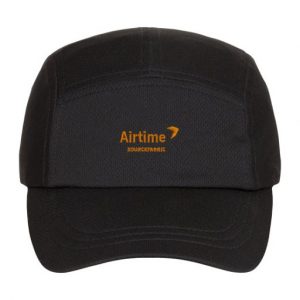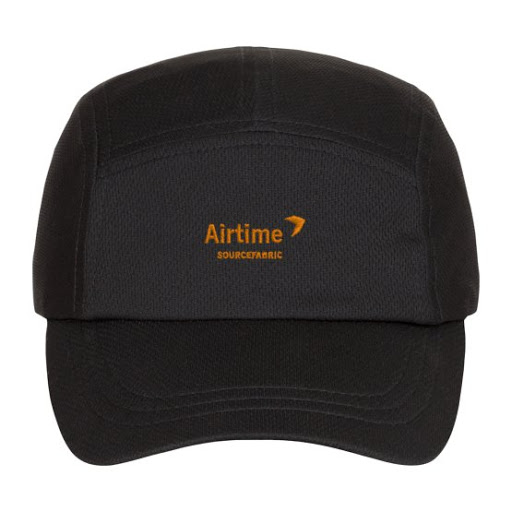 Tools to use to promote your internet radio station
Starting an online radio station has never been easier. No credit card required!
7 day free trial Plans from $9.95/mo