When you start an internet radio station for the first time you have that exciting moment: It's the moment you see your station live for the first time.
Another super exciting moment is when you see your first few listeners, and if you are good enough, unique enough, or/and lucky enough, you will see your audience grow day by day. But we don't want to create fake expectations here. With thousands of internet stations out there, building a (stable) audience is more difficult than you might expect, and retaining your current listeners might not be an easy task either. We have already written a guide on How to promote your internet radio station. However, we need to highlight the following: It won't make much sense to attract new listeners if at the same time you lose the ones you already have. So, in order to increase your listeners you will need at the same time to retain and engage your existing ones. Therefore, in this post we will focus on how to understand, retain your current listeners to your station and keep them listening longer. 
Step 1: Analyse your current listeners
Before even trying to retain your audience or even reach new listeners, you first need to identify your ideal listeners, to know who they are and what they expect from a radio station like yours. Defining your audience is essential if you really want to create a long-term fanbase, as this will help you shape your programming and business strategy with more precision. Otherwise you may spend time, effort and money trying to attract listeners who are not a good fit and won't stay with you. The key point here is that you don't want one-offs! You want to attract listeners who will come again and listen to your station. If you already have an internet radio station up and running, you will want to analyse the current demographics of your listenership statistics. 
If you have embedded your Airtime Pro radio station on your self-hosted website you might have already installed Google analytics. If that's the case then you can get in-depth demographics regarding your audience such as: genre, age, location, interests, technology they use to enter your site, acquisition source and more. Here is a nice guide on analysing your traffic on Google analytics.
You can also do a short analysis of your fanbase by looking at the demographics and metrics of your social media channels. Facebook has some great insights. You need to go to your Facebook Page Management >> Insights >> People
There you will find useful information about your followers, like country and city of origin, language, genre and age range. Facebook insights also gives you interesting info about the times when your fans are logged in on Facebook. To retrieve that data go to Insights >> Posts. Finally, the overview section has some useful info about post reach, engagement, page views, page likes and more.
Twitter offers also some basic analytics about tweet reach and engagement rates but unfortunately it doesn't give you demographics. To be able to measure your demographics on Twitter you will need to use a paid extension.
Another way to analyse your listeners is to take a close look at your station's most popular listening times and music/content. This will help you identify what your listeners prefer to listen to. 
Start your own internet radio station today, no credit card required!
7 day free trial Plans from $9.95/mo
Step 2: Engage your current listeners
Keep your content updated and try to explore new music avenues
Now you're at the point where you can analyse your content and shows to see which show or style of music gets the most attention. Is it the radio shows where you speak about specific topics? Or the ones that you just play a specific genre of music. By identifying your most popular content, will help you create better programming for your station. So, for example: if you see that the number of listeners peaks when you play Alternative Rock and drops when you play Electronica, then you may consider dropping the Electronic music and emphasise more Alternative Rock. Now that you know that a good amount of your listeners listen to Alternative Rock you can do a bit of research on the demographics of listeners of this specific genre. During your research you might even find that listeners of Alternative Rock also like similar genres such as Brit Pop, Emo or Post Rock. For this example I Googled 'alternative rock similar genre' and got the following search result: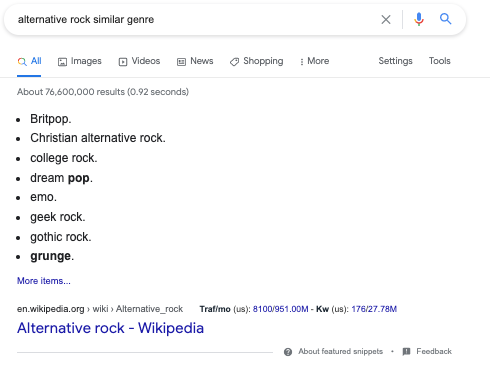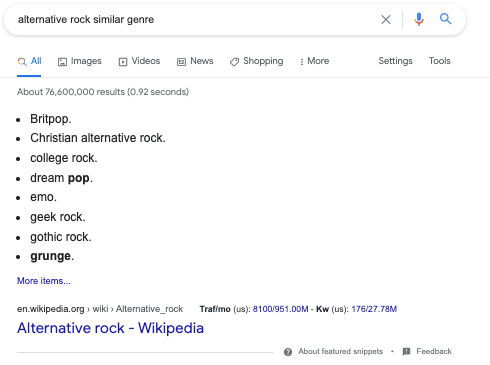 Another great way to find similar genres is through platforms like Spotify, YouTube and Lastfm. By adding more genres to your programme, you can give your listeners more diverse content and at the same time attract new listeners that enjoy listening to those genres. In this way you keep your programming updated so that your station doesn't become repetitive and boring for your fans. 
6+1 Ways to retain and engage your listeners
Engaging your listeners makes them feel they matter, thus providing a foundation for stronger ties, which helps strengthen your brand recognition and listener retention.
Here are some great ways to engage your listeners:
1. Interact with them, ask questions, answer their questions and comments, and be playful!
You can implement a chat on your site to give them a way to interact with you and each other. You can also create a Facebook group where they can share opinions, playlists, favourite shows or any media format they like (text, video, music, images…). 
2. Ask for song requests
People love to request their favorite songs, being in a club, in a bar or calling into the radio station. They will feel that they are part of the show and will stick around till they hear to their request.
3. Make use of your social media pages
You can create social media pages on Facebook and Twitter where you can share news and the latest updates about your station, your programmes and shows and even news about the industry and the world. 
4. Make use of platforms like YouTube, SoundCloud, LinkedIn, Pinterest, Instagram, Reddit, Flickr.
There are plenty of platforms you can use to engage with your listeners. You need to identify which of the available platforms are the most popular amongst your audience and try to utilise them. You can even ask your fans in a playful way through your chat or group to state their favorite platforms where they tend to spend most of their time.
5. Let them know what to expect
Another great way to make your listeners stay longer with your station is to let them know what's coming up next, in the next half hour, which will be the next show or what to expect later on in the week. For example if you are hosting a special interview or a themed show, you may want to let them know way in advance so that they don't miss out. You can even make use of teasers to keep them in the loop of what's coming next.
6. Run competitions and giveaways.
Finally, running giveaways is another way to give your audience a reason to tune in. Everyone likes a nice prize and they will want to stay tuned in to see if they won.
Extra Tip: And here is a great tip from Bob Gaye from Airtime Pro station D-103 RADIO NETWORK: 
Record listeners' voice drops and put them on the air. People love to hear themselves on the radio. Create a monthly theme for all (12) months of the year and select the music that will be a perfect fit. Promote your radio station TEAM and not just yourself.
In all the above ideas, the common thread is engagement: you will need to interact with the community, welcome new members, identify and nurture power users, and reward contributors when possible and appropriate. If you have more ideas, please share them in the comments section. 
Starting an online radio station has never been easier. No credit card required!
7 day free trial Plans from $9.95/mo