The coronavirus pandemic has deeply impacted all aspects of society, and the radio broadcasting community is no exception.
Radio stations are facing the same problems affecting offices worldwide: how to continue operating in a time of extreme social distancing. Several college radio stations have had to suspend broadcasting altogether with the closure of their campuses. Others have been forced to rely more on automated programming and archived shows.
The Show Must Go On
As challenging and difficult as this situation may be, the show truly must go on. Radio is a tried-and-trusted medium with a long history and crucial role in keeping the public informed during times of crisis. Thankfully, with the modern technology we have at our disposal today, DJs can easily set up an improvised remote studio, produce their shows from home, and continue to play an important role in their communities while maintaining their safety. (see our step-by-step guide: "How to Start an Internet Radio Station From Home")
Doug Arellanes (disclosure: Doug was a Sourcefabric co-founder and our director of innovation for 7 years), quickly set up a makeshift home studio to do both his show for Radio 1 in Prague and to continue his radio broadcasting class at Anglo-American University after its campus was closed.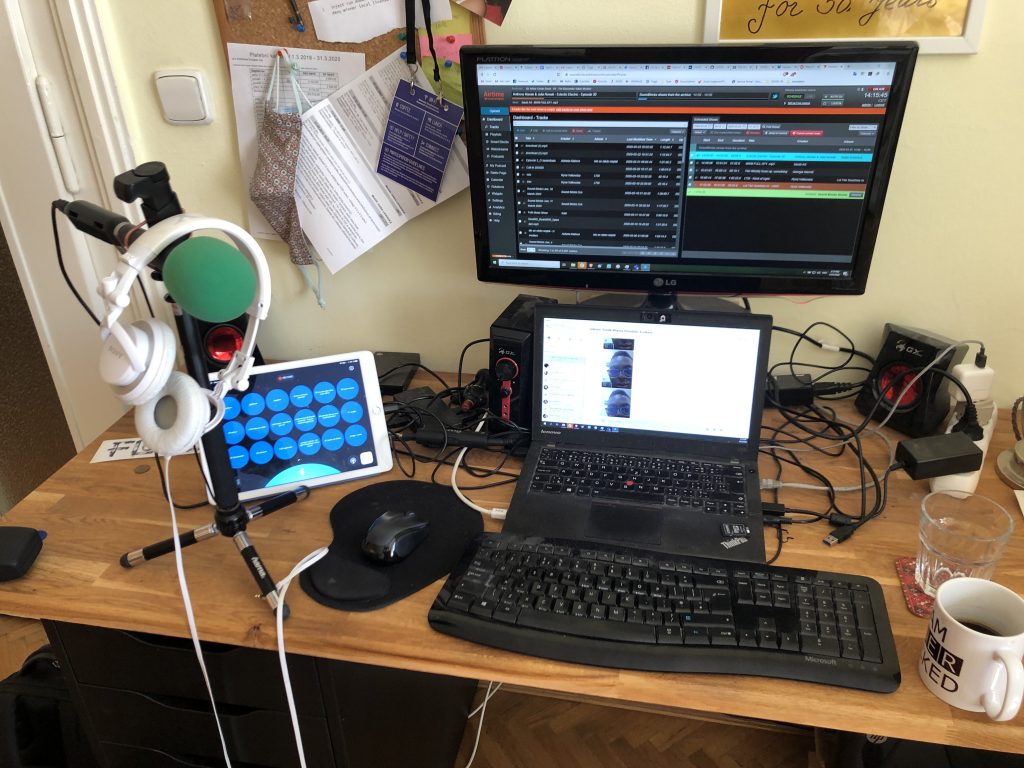 Many of his students have dispersed to their home countries, but they've continued their "AAU Audio and Redefining Radio" class and weekly Sound Bricks Radio show uninterrupted from Prague, Moscow and Los Angeles using our Airtime Pro internet radio software, utilising its built-in Rocket Broadcaster live broadcasting functionality, along with Microsoft Teams for video conferencing and Skype.
Since Airtime Pro is hosted in the cloud and can be run remotely from any web browser, correspondents (or, in this case, students) from all over the world can log in and contribute, making it an ideal online radio platform for far-flung contributors even in normal circumstances. And that is especially true in today's environment, where quarantines are becoming the norm and DJs and most other workers are highly advised to work remotely if possible.

Airtime Pro: Built for Remote Broadcasting
As Doug points out in "Broadcasting From the Cloud, While Living in the Cloud", Airtime Pro was designed from its inception to provide continuous radio broadcasting for decentralised groups operating under duress. The original specs for Airtime Pro were, in fact, written by Robert Klajn, the legendary Belgrade-based radio engineer, who was tasked with the difficult job of keeping Serbia's Radio B92 on air during the Milosevic regime of the 1990s.
The students working on Sound Bricks Radio have created a new show in response to the crisis, called "Covid Call-in", in which they take calls from the public and report on efforts in their various locations to combat the epidemic. According to Doug, "Airtime Pro's ability to switch between live and pre-recorded shows is crucial in my student's ability to create their own shows from home, then upload them for scheduling and playout."
He's also written another post on Medium, "Integrating Skype Calls into Streaming Radio, Robinson-Crusoe-style", explaining how he set up his limited home studio to incorporate Skype calls into Airtime Pro live broadcasts.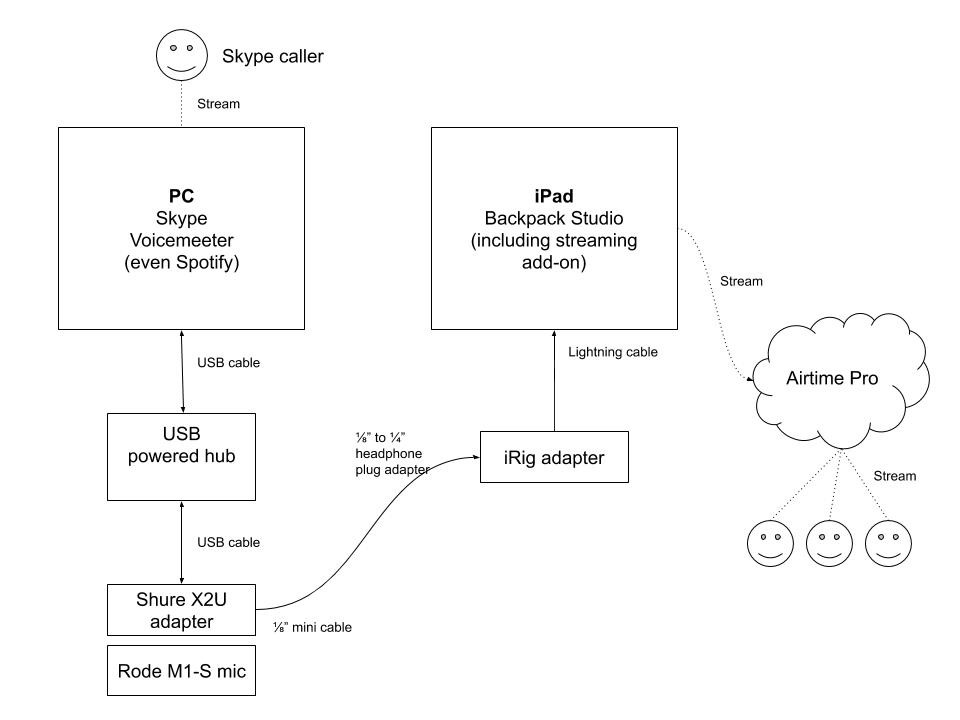 Doug is also using that live-call Skype setup in his show on Radio 1, where only a small engineering staff remains in place and most of the nearly 100 DJs have also had to resort to broadcasting from improvised home studios.
Radio's Important Role in Bringing Communities Together
The coronavirus pandemic will present many challenges in the days ahead, but as far as radio goes, we're seeing that stations and DJs are quickly learning to adapt and have more than enough technology to avoid any interruptions or information gaps.

We're also seeing a lot of people get involved with radio for the first time in an attempt to help inform fellow citizens and bring their communities together. Radio has always been an ideal medium for building closer ties within communities. And with internet radio broadcasting software such as Airtime Pro, it's never been easier to set up a station and begin contributing right away.

If you don't already have an online radio station, sign up for our free 7-day trial, which requires no credit card.
*All photos and illustration courtesy of Doug Arellanes.